AUDIO BOOKS
Christy has narrated several titles on Audible.
With exciting tales and inspiration non-fiction, you're sure to find an audiobook you'll enjoy.
Click on the book covers to order!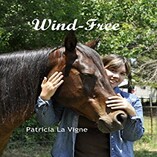 Fifteen-year-old Kellea Sullivan discovers her calling in life after falling in love with a Thoroughbred colt she names Wind-Free. She cares for the colt after his leg is caught in a coil trap, and then after surgery for a bone spur. Her love and attention is rewarded when Wind-Free begins racing and wins race after race. But can he live up to his name and reputation when he's entered in the biggest race of all, the Triple Crown?
Gingersnaps & Candy Canes is chock-full of stories that will bring a tear or two, either from laughing or crying, depending on the story! But no matter which one brings you to tears, you'll have a hard time choosing just one favorite!
In this unique "letter" to the bride from her mother, this audiobook offers anecdotes, humor, practical tips, and biblical insights to marriage.
Author Laura Thomas uses her 25 years of marriage to help brides and newlyweds understand marriage and gives advice on everything from money management, understanding men, and keeping marriage alive by never forgetting to continue being on your honeymoon. Taking cues from the Proverbs 31 woman, Mrs. Thomas has made this letter to her daughter a gift to every woman considering marriage, or who is already married. A great gift for brides and brides-to-be.
We never know where our Christian walk will lead us but if we are led by the Spirit, we will always go in the right direction. And if we are led by the Spirit, we will produce good fruit in our lives. The Root The Fruit The Shoot is a life lesson in producing the Fruit of the Spirit.
Life is the journey we take on our way to Heaven. It's not easy, it's not pretty, and sometimes, it's downright difficult. However, we have an advocate unlike any other, Jesus Christ. In Shine His Light, the author uses scriptures and her own life lessons to help others get through the bumpy spots.